Inlays & Onlays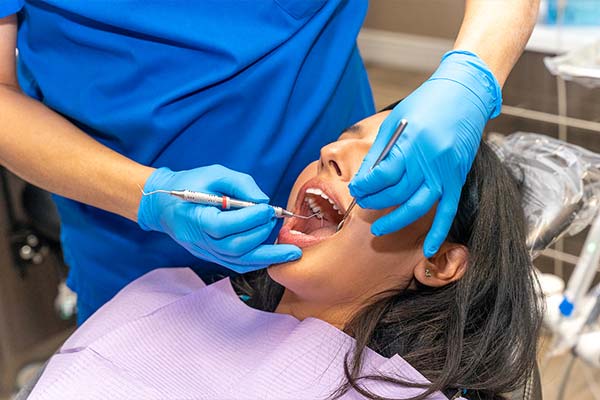 A dental filling is used to restore your tooth's structure after your cavity has been removed. Like fillings and crowns, inlays and onlays are used to repair your tooth's structure if it has suffered from decay. At Picasso Dental Care our dentists can treat any cavity with fillings. A filling is different from a crown because it can be used to repair a unique sized or placed cavity. If a filling would offer too little protection or a crown offers too much protection, inlays and onlays offer the best alternative solution for restoring your teeth and saving their natural structure.


Onlays Can Restore the Chewing Surface

When our dentist recommends an onlay instead of an inlay then your area of decay extends onto the chewing surface and an onlay can be used to rebuild this structure. Crowns can also replace the chewing surface but they require partial removal of your tooth to support a crown, therefore onlays are the best choice for keeping your natural structure.


We Will Eliminate All Decay Before the Inlay

When getting an inlay, you will need two appointments with our dentist. Our dentist will first take an x-ray of the tooth, the roots, and the surrounding bone to determine the full extent of the decay in your teeth. Then the dentist will use a needle to inject a local anesthetic to ensure that your procedure goes without unwanted discomfort while we remove decay with a drill, laser, or air abrasion instrument. We may also use caries detector dye which is a dye that can leave a stain on less obvious areas of decay. This will help us eliminate all decay within your smile without causing excessive damage to the structure of your irreplaceable enamel.

If you are considering inlays you should know that this kind of treatment is so important because it can provide your teeth with another option besides crowns, which will require virtually the entire tooth to be shaved down, a procedure that cannot be reversed. Once your tooth has been prepared, then we will make a mold of the area and send this imprint to a dental lab where it will be manufactured to perfectly fit the hollow of your tooth. Granted that you are receiving an inlay the materials used traditionally include porcelain or composite resin materials. Once your custom inlay returns a few weeks later, our dentist will be able to bond the inlay to the tooth. Another reason why inlays are so important is that they can be used to cover old fillings with tooth-colored resin and restore their looks.


An Onlay May Support Your Needs Better Than An Inlay

If you require an onlay, your procedure will be very similar to an inlay procedure. When receiving an onlay instead of an inlay the key difference is that your onlay will extend onto the chewing surface of your tooth. Cusps are the elevated mounds on canines and your back teeth, your inlay will replace this structure partially or fully. Onlays are used when fillings or inlays are not enough to restore your tooth's appearance and strength.

Our dentist will first take x-rays to examine the tooth, its roots, and the bones that surround it. Shown precisely through the x-rays, the area of decay will be removed from your tooth after the local anesthetic is injected. Now we can make an impression of the cavity and send it to a dental laboratory to be manufactured, and we will use a temporary onlay until your permanent one arrives a few weeks later. Finally, our dentist will apply a local anesthetic and permanently cement your onlay into place. Supposing that you are receiving an onlay it may be made of porcelain or composite resin just like inlays.


Caring for Your Inlay or Onlay is Easy

To ensure the longevity of your onlay or inlay the aftercare is very simple, just follow normal healthy oral hygiene practices. This means that you must brush and floss after meals, use fluoride mouthwash, and visit our office every six months for a checkup and cleaning. To consult with a dental professional at Picasso Dental Care call (951) 383-2021 now.