Benefits of Dental Implants Temecula CA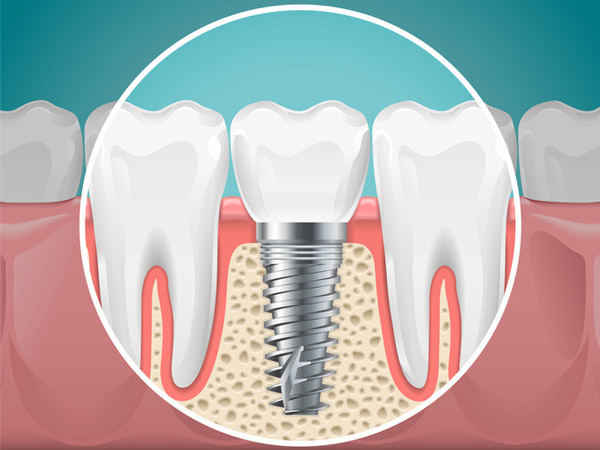 Dental implants are revolutionary medical devices that are surgically placed inside the jawbone to replace missing tooth roots.

Dental implants from Picasso Dental Care can restore the natural bite force and improve a person's cosmetic appearance.

When you get a dental implant from our team of professionals in Temecula, the implant will provide a solid foundation for other restoration options we offer like crowns, dentures, or dental bridges.


What Is a Dental Implant System?

The structure of dental implants is based on three main components: the implant body, the abutment, and the dental crown. The dental implant body is made out of a biocompatible material, such as titanium, so that it fuses properly with the jawbone.

When the dental implant body is drilled inside the jawbone, it takes the place of the missing tooth roots. After the jawbone heals and grows around the implant, it is time to attach an abutment. The abutment is secured to the implant body with the help of abutment fixation screws.

This abutment extends from inside the jawbone, through the gums, into the oral cavity. The dental crown then attaches on top of the abutment, and thus, the restoration process is completed.


Considerations Before Getting Dental Implants

Dental implants have several benefits, but here are the following things you must consider and talk to your dental provider about before you opt for the procedure.

| | |
| --- | --- |
| • | Whether you are healthy enough to undergo an invasive surgical procedure like dental implant surgery. |
| • | Whether you are willing to dedicate months to the procedure, as implant placement and bone healing can take several weeks to complete. |
| • | Whether you can afford to consider dental implants as a teeth restoration procedure, as it is an expensive option compared to dental bridges and dentures. |
| • | Whether you have any gum disease that can make you an ineligible candidate for the dental implant procedure |
What Are the Benefits of Dental Implants?
Dental Implants Can Replace Single or Multiple Teeth

Dental implants offer a natural and permanent solution for those who have one or more missing teeth. This is a safe and effective procedure that restores dental function, appearance, and bite force.

Dental implants also make a strong foundation for different types of restoration procedures like single or multiple teeth replacement via dental crowns, dental bridges, or dentures.


Dental Implants Restore Your Natural Bite Force

Dental implants look and feel just like natural teeth. They are placed inside the jawbone, which means that they offer similar chewing and biting sensations as natural tooth roots.

Similarly, we will a custom-designed dental crown that matches the color and size of your natural teeth so that it blends in properly. Thus, dental implants can significantly improve the appearance and confidence of a person, as they do not interfere with chewing, speech, or biting abilities.


Dental Implants Prevent Bone Loss

Dental implants have an exceptional benefit over dental bridges and dentures, as they prevent bone resorption.

Dental implants replace missing tooth roots, which means that they transfer the bite force all the way to the jawbone. This natural stimulation of the jawbone during chewing and talking is the reason why the jawbone doesn't lose its strength and structure even after the natural tooth is extracted.


Dental Implants Preserve Facial Structure

Dentures can be ill-fitting and slip or slide during speech and chewing. This difficulty that arises due to a lack of stable and secure tooth replacement is what prevents people from talking or eating with confidence. Furthermore, as dental implants prevent bone loss, it doesn't result in a sunken appearance of jawbone or facial sagging. This is why dental implants are an excellent procedure to preserve the cosmetic appearance of a person.


Dental Implants Don't Develop Cavities!

You cannot get cavities when you are replacing single or multiple teeth with dental implants. The natural tooth and its roots are extracted and replaced by a titanium implant, which is a biocompatible material. The porcelain used to make dental crowns is also non-porous and prevents acids and harder compounds stick to the surface.


How Many Teeth Can Be Replaced With Dental Implants?

Dental implants are most often used to replace a single tooth. However, two dental implants can be combined in order to replace up to six teeth.

One dental implant can support a maximum of three replacement teeth.

With the latest improvement in dental procedures, dental implants are also successfully used for full teeth replacement on the lower or upper dental arches.


What Are My Options for Replacing Multiple Missing Teeth?

While there are several options that allow you to successfully replace multiple missing teeth, such as dentures, crowns, bridges, bonding, and porcelain veneers, dental implants still remain the best option to replace missing teeth for a number of reasons. To summarize the benefits listed above:


| | |
| --- | --- |
| • | First, dental implants will support your jawbone and improve your natural biting and chewing abilities. |
| • | Second, dental implants prevent facial sagging and improve a person's confidence. |
| • | Third, dental implants are a long-term and healthy option for teeth replacement, resistant to cavities and other complications. |
Dental Implant Process

The dental implant process typically consists of the following five steps:


Consultation

The initial consultation with us helps identify whether or not you are an eligible candidate for the dental implant process. Oral health, signs of gum disease, and bone strength are evaluated before a person is cleared to move toward the surgical procedure.


Dental Implant Placement

The titanium implant is inserted into the jawbone and allowed to heal for a few months.


Healing Process

The process of osseointegration allows the jawbone to grow around the implant, fixing it securely in its place.


Abutment Placement

After the jawbone heals, the abutment allows proper fixing of the replacement tooth with the dental implant body.


Dental Crown Placement

The dentists create a custom-made tooth restoration that matches the color, size, and shape of your natural teeth.


Schedule an Appointment With Your Temecula Dentist Today!

At Picasso Dental Care, we crucially consider our patients' oral health and best dental practices above anything else. Dr. Vinh Le and Dr. Quang Le will guide you through the dental implant procedure and whether it is the best option for your tooth replacement. Contact us at (951) 383-2021 to schedule an appointment.