Sedation Dentistry Temecula CA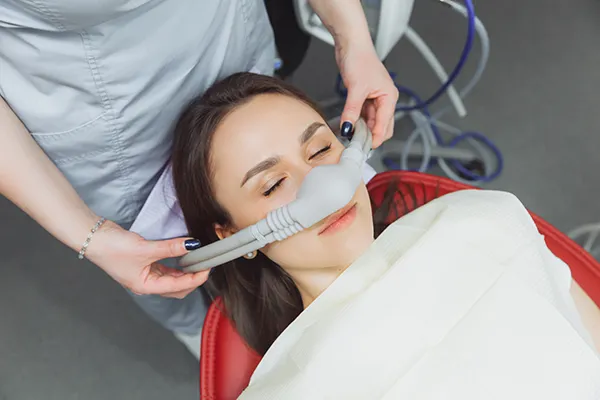 If you have an upcoming dental procedure, sedation options are probably on your mind.

While surgery is the most common reason for sedation, options are also given to those who have sensitive teeth, low pain tolerance, a really bad gag reflex, or have a hard time sitting still in the office chair.

The most common options for sedation offered by dentists are oral sedation, local anesthesia, nitrous oxide, and IV sedation. Picasso Dental Care in Temecula, CA offers each of these sedation options to you if you feel you might need them.


Can Every Dentist Offer Sedation?

Almost every dentist will be allowed to give a small type of mild sedation like nitrous oxide, oral sedation, or a local anesthetic. There are other dentists who can offer you moderate sedation during your appointment. Very few dentists have completed the program that allows them to give you sedation such as an IV or general anesthesia.

If the dentist is only qualified for mild sedation, they will usually bring in a highly skilled dental anesthesiologist who has gone through specific training to be able to give any type of sedation. This will help you feel safe and confident knowing you are getting the best possible treatment.


What Is Sedation Dentistry?

Sedation dentistry allows patients to have the necessary dental treatments by offering a sedative so they can relax and have treatment they may not otherwise be able to due stress or pain.

Sedation dentistry is generally very safe, and the chance of experiencing any side-effects is rare for most people. There are exceptions, which is why it is important to let us know of any medications, pre-existing medical conditions, or other issues that could have an adverse effect.

Patients who are overweight or have obstructive sleep apnea should take special care when considering sedation options, as these conditions can potentially interfere with the safe and successful administration of sedatives.


Nitrous Oxide

Nitrous oxide is also commonly known as laughing gas and is administered through a soft nasal mask. It is an extremely quick and effective solution as it is a mild sedative.

If you opt for nitrous oxide during your appointment, you will even be able to drive yourself home afterward. This form of sedation is most commonly used for short, simple procedures like a tooth extraction.


Oral Sedation

This type of sedation is usually given in the form of a prescription tablet and it will have stronger effects than nitrous oxide. Oral sedation is used to help you feel more relaxed and comfortable during your appointment. It will help your nervous system relax and you will feel a little groggy. You might even be able to fall asleep during the appointment.


Local Anesthesia

Local anesthesia will be used for minor surgeries that don't normally take long, such as a cavity filling. It is usually a numbing medication that will be delivered as a shot directly into the spot where you will be receiving treatment. It can also be in the form of a topical gel that will be rubbed into your gum. Either of these may also be given to you in addition to any other type of anesthesia you choose.


Is Sedation Dentistry Safe for Toddlers?

We place the safety of each young patient as the highest priority. Children can be safely sedated for the duration of their dental treatment or procedure. Infants and toddlers who are in good health may also benefit from dental sedation options.

There are several methods of administering sedation medications to pediatric patients. The inhaling of nitrous oxide is the easiest to consider. Liquid medications are another easy option for our dentist and parents to consider.


Can I Eat Before Sedation Dentistry?

It may be suggested that the patient not drink or eat anything prior to the procedure. Consult with the dentist regarding this and what timeframe they would like you to stop eating before the dental treatment. Eating too soon before your procedure can cause an upset stomach and nausea.


Can I Drive After Sedation Dentistry?

It depends on the type of sedation you receive if you are able to drive after your procedure. Those who receive local anesthesia or nitrous oxide can drive afterwards.


Oral Sedation for Kids: What Should Parents Expect?

It can take up to an hour for your child to respond to the sedation medication, based upon the sedation type that is used. Most children will feel drowsy and relaxed. They may drift into a light relaxed sleep for the duration of their treatment. Dental sedation is not designed with the intention of leaving the patient unconscious or unresponsive.

Not all children will respond the same way to sedation medications. Some may not relax. Instead, they could cry or may also become agitated. In these cases, it may potentially keep our dentist from being able to complete the procedure. Children will be observed closely, in order to gauge how well they respond to the sedation medication.


How Do I Prepare My Child for Dental Sedation?

It is important to adhere to the pre-procedure instructions provided to you by our pediatric dentist. This will help you and your child to prepare for the appointment. If your child feels some level of nervousness about the appointment, consider encouraging them to bring a favorite blanket or stuffed toy with them for comfort.

Nitrous oxide is largely considered to be safe, for patients of all ages. The patient will simply breathe normally to inhale the gas. The calming effects of the medication are felt instantly.The effects of the medication will wear off almost immediately once the gas is turned off.

For children who have special needs, or who are perhaps less cooperative, other sedation methods may be the better option to consider. Oral sedation and IV sedation methods can be considered for some patients. They are also considered if the procedure is going to be complicated or lengthy.


Your Temecula, CA Dentist Can Answer Your Questions - Call Today!

There is no reason to ever feel uncomfortable visiting the dentist, and our many sedation options are a powerful tool to help you achieve this confidence. If you think that one of our sedation options might be able to benefit you or your child for your needed dental procedure, then call Picasso Dental Care at (951) 383-2021 and we will be happy to answer any of your questions.